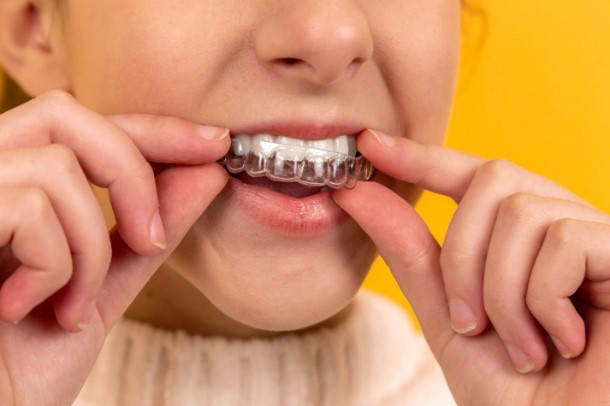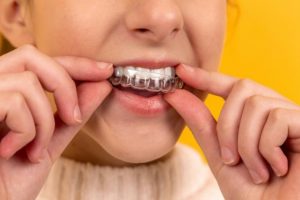 Orthodontic treatment has been used for almost a century to correct the alignment of teeth. Most
people think that orthodontic treatment falls under cosmetic treatment, but this is not true.
Orthodontic treatment is essential to improve function as well as aesthetics.
Benefits Of Orthodontic Treatment:
● Improved aesthetics
● Improved speech
● Improved chewing function
● Better smile
● Improved confidence
● Improved self-esteem
Orthodontic Treatment Types
Orthodontic treatment uses the ability of teeth to move into desired spaces by exerting firm but
consistent pressure. There are two main types of treatments that are in use today:
1. Orthodontic Braces
2. Orthodontic Aligners or Invisalign
Orthodontic braces can be further divided into the following types:
Metal Braces
These are the traditional metallic braces that are most commonly used today. They involve bonding
metal brackets onto the teeth with slots through which metallic wires are passed. Rubber bands, called
o- rings, are used to hold the brackets and wires in place. The wires are bent in certain places and
passed through the brackets. As they return to their original shape, they exert pressure on the teeth,
moving them into their correct positions and aligning them.
Damon Braces
Damon braces, like metal braces, are also used to straighten teeth, except that they have a different
mechanism of action. They have a self-ligating system to connect archwires to brackets instead of elastic
bands common in metal braces.
Lingual Braces
These work the same way as metallic braces, except the placement of brackets is on the inner surfaces
of teeth for better aesthetics
Ceramic Braces
Ceramic braces are tooth-colored to improve aesthetics and work the same way as metal braces, but
they are a bit less durable than metal braces, and care is advised
Invisalign vs Braces-Differences between Metal Braces and Invisalign
When we talk about Invisalign vs braces we should understand that they both are the two most common and popular types of orthodontic treatments that are in use today. Here are the following pros and cons of both types:
Metal Braces
Metal braces involve the use of metallic arch wires that run through metallic brackets bonded onto your
teeth. The wires exert pressure on the teeth and align them to their correct positions. They are suitable
for correcting the following types of misaligned teeth:
● Overbite
● Crossbite
● Underbite
● Rotated teeth
● Crowding
● Gaps between teeth
● Intrusions and extrusions
Here are the following advantages and disadvantages of metallic braces
Pros
● Treatment is under the control of the dentist
● Suitable for all ages
● They are effective solutions to treat complex orthodontic cases
● They are durable
● They are affordable
Cons
● There is a metal show of the wires and brackets
● Limitations on foods that can get stuck in and dislodge metal wires such as popcorn, biting into apples, and cheesy foods such as pizza
● Orthodontic brush required to clean between brackets
● Dental appointments have to be made every two weeks to cut or change wires
● Brackets can debond or become loose
● Tend to cause plaque accumulation under the wires if regular cleanings are not done
Invisalign
Invisalign treatment is an improved version of metallic braces. These were invented because metallic
braces had an unpleasant metal show in the mouth that prevented most adults from getting an
orthodontic treatment done.
Invisalign trays come in a box with roughly 15-18 sets of clear plastic trays that are numbered.
Depending on your case, your treatment time may be long or short. The trays need to be worn 22 hours
a day only to be removed while eating and must be changed every 15 days.
Many professionals whose jobs required public dealings were hesitant about getting orthodontic
treatment because of the metal wires running across their teeth. Some have busy schedules where they
cannot make time to see the dentist every two weeks for wire tightening and follow-up appointments.
Others felt claustrophobic with the idea of metal in their mouths and food limitations with braces
bonded onto their teeth. Invisalign aligners are perfect for such individuals. There is no metal show in
the mouth. They have excellent aesthetics, and no one can tell that they are wearing anything on top of
their teeth.
They are removable, so you can easily remove them before eating and re-wear them afterward.
Since the treatment is patient-dependent, there is no need to visit the dentist. Patients can change their
set of aligners every two weeks and continue their treatment.
One follow-up appointment is required in two to three months just to keep everything in check.
Pros
● Clear aligners that fit snugly onto the teeth, so they are barely visible in the mouth while the person speaks or smiles
● No need to visit the dentist every two weeks
● You can travel out of town without worrying about missing appointments
● No need to worry about wires snapping or brackets debonding
● No restrictions on food such as popcorn or biting into burgers or pizza
● They are removable and must be removed during eating and drinking sticky or hot beverages
● They are easy to clean
● Teeth can be brushed and flossed as normal after removing the aligners
● No special orthodontic brushes are required
● Superior aesthetics make the treatment suitable for use by professionals
Cons
● Patient cooperation is a must
● Wearing the aligners at least 22 hours a day is essential for the treatment to work
● Not suitable for younger patients
● Less effective for certain complex cases
Post Treatment
It is important to remember that teeth like to move into their original positions once the force holding
them in place is removed. This occurs most commonly right after orthodontic treatment is completed. It
is important to retain the position of teeth by using retainers and fixed bonding procedures after
treatment completion to prevent a relapse from occurring.
The Bottom Line
Orthodontic treatment is used to correct misaligned teeth, correct bite, occlusion, speech, and function.
Orthodontic treatment is not restricted by age; anyone can get their teeth straightened and aligned no
matter how old. If you feel that your teeth are not properly aligned and are considering getting
the orthodontic treatment done, it's best to consult with the best orthodontist in Dubai. Book an
appointment with one of our esteemed team of professionals at Dr. Paul's Dental Clinic and get your
consultation done today.