Laser Dentistry involves the use of precision instruments that emit thin, concentrated beams of light energy to aide in the correction of various dental issues.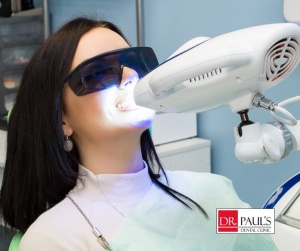 Here are some facts about Laser Dentistry
Laser dentistry offers more comfortable treatment options for a number of dental procedures when compared to dental drills and other non-laser tools.
Laser dentistry is a minimally invasive option ideal for gum surgery, cavity treatment, and other oral issues.
Owing to its quick sealing nature less blood is shed meaning fewer sutures are required.
Anesthesia during laser dentistry is usually not necessary.
The laser sterilizes gums making chances of infection far less likely.
Less damage to the gums often results in shorter healing times.
Soft Tissue Lasers
The soft tissue lasers are ideal for working on the gums as they cut into soft tissue and seal the exposed blood vessels at the same time which explains why there is minimal bleeding during laser dentistry and why healing is faster than conventional methods. Soft tissue lasers are commonly used for:
Crown lengthening – This is the process of reshaping gum tissue and bone for enhanced tooth structure which further helps when placings for any teeth restoration is needed.
Frenectomy– A frenectomy involves removing one or more frenum (connective tissue membrane that restricts the movement) and can be performed inside the middle of the upper lip and lower lip (labial frenectomy) or under the tongue (lingual frenectomy.) Frenectomies are very common and are performed on infants, children and adults.
A Gingivectomy –Here, the Gingival(or gum) tissue is re-contoured in order to improve the overall aesthetics of the patient's smile.
Laser Gum Depigmentation – Melanocytes are cells that produce melanin which are pigments that cause light or dark brown spots on the gums. To remedy these a dental laser is often used on the melanocytes which reduce the melanin in the gum tissue leaving a lighter and more uniform colored gum.
Oral Fibroma – An Oral fibroma is a common benign mass of connective tissue brought about by a trauma or localized irritation on the lip, cheek or tongue. They can usually be removed via Laser treatment with the procedure often taking less than 5 minutes. The patient usually returns after two weeks for a routine checkup.
If you need any consultative advice concerning Laser Dentistry do not hesitate to contact us at our dental clinic in oud metha and talk to Dr. Marina, our resident expert in the field. Call us on +971 4 357 5783 for an appointment or visit our website at https://www.drpaulsdentalclinic.com